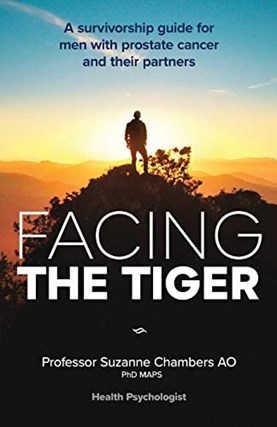 Professor Suzanne Chambers
Written by one of the world's leading researchers into the psychological effects of cancer and how best to provide support for individuals and couples, Facing the Tiger encourages the reader to select from a range of topics what is most relevant right now.
"This book will make a large difference to the lives of people affected by prostate cancer."
Professor Ian Davis, Medical Oncologist, Founder and Chair, Australian and New Zealand Urogenital and Prostate Cancer Trials Group
Available in paperback from www.aapbooks.com and Amazon, and as an Ebook via Google Play, Facing the Tiger features personal stories and insights from men and their partners to offer emotional comfort and inspiration throughout.
While everyone's experience of prostate cancer is uniquely their own there is nothing quite like the wisdom that comes from others who have already walked the path.
Don't face the tiger alone.
A Guide for Men with Prostate Cancer and the People Who Love Them
In Australia over 120,000 men are living with a diagnosis of prostate cancer. For each man who has had prostate cancer, there will be people close who care about them, and love them, who are also deeply affected.
"Once a patient, partner or a family member affected by prostate cancer starts to read this book they will not be able to put it down."
David Sandoe OAM, Former National Chairman Prostate Cancer Foundation of Australia and Co-leader (with his wife Pam) of the Sydney Adventist Hospital Prostate Cancer Support Group
Facing the Tiger provides practical strategies to help cope with the emotional and psychological stress of living with prostate cancer and to regain a sense of ease about the situation in which you may find yourself.
"A book written 'from the heart' that provides a self-help guide in simple and unambiguous language."
Professor RA ("Frank") Gardiner AM, MBBS MD FRACS FRCS, Professor of Urology, The University of Queensland, Consultant Urologist, Royal Brisbane & Women's Hospital